Women and the Koran
Paperback, 115 pages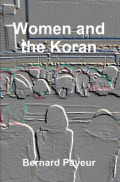 Thursdays' downstairs bar was usually busy every night of the week, but there was a raging snow storm outside when she walked in, the most stunning black woman I had ever seen.
It was only a matter of time before our eyes met, and when they did, I said hi, and she said hello. I said bonjour, she said bonsoir. She asked if she could move closer. I said bien sûr.
She spoke near perfect French, not that high pitch, hysterical, pretentious French spoken by Parisian snobs and garçons de café, but a happy, melodious French, not unlike in tone to the English that you might hear on a beach in Jamaica.
When it was time to leave I offered to walk her to her car. When we got outside the snow had really piled up. My hotel was just across the street. She asked if she could park her car in the underground parking lot of the Chateau Royale and spend the night.
I agreed. I think it was when we were alone in the elevator that she mentioned that if we got to know each other better there would be a price to pay. I had not been born the day before. The relationship would mature, but not necessarily the way that is already being played out in your minds.
I wanted to know about the world she had left behind.
I remember the first time I asked her about her home in Africa. We were having dinner at Thursday's second floor restaurant, outside, on the patio, on a warm summer evening. I wanted to hear about the lions, the tigers, the tropical rain forest, the endless summers...
She laughed. Her country was not like that at all. It was dirt roads, arid dusty fields, no wildlife to speak of and, as far as the tropical forest was concerned, there was almost none left.
At other times she talked about her family. Her father and mother remained in Africa. She hinted at a relationship which seems to have been her prime motivator in immigrating to Canada; and that was to escape a marriage in the Islamic tradition, which she once described as "god-sanctioned rape."
A young woman from Africa who preferred prostituting herself on the cold streets of Montreal rather than enter into an arranged marriage got me interested in the Koran. She opened my eyes. It is my hope that Women and the Koran will do the same for you.
If you found the information that we have made freely available online useful, please consider buying the book. Thank you.
Revelations and Generalizations
Sex, and When Resistance is Futile
Maid-servants, slave-girls and pre-pubescent females
Why Men Are Always Right
On the road and no bookkeeper can be found
Who Gets What - Wills and Testaments
The Invisible, Illiterate Woman
Wills and Witnesses
Husband Dies
Wife Dies
A Vicious Circle
Marriage
Women As Fields To Be Ploughed
A Contractual Affair, Polygamy
Women of the Book and Slave-Girls
Daughters-in-Law, Widows, Orphaned Girls
Divorce by Zihar
Spinsters, Prostitutes and Suckling
Spinsters and Prostitutes
The Suckling Imperative
Making a Male a Close Relation by Suckling Him
A Man and His Wives
In the Prophet's House
A Taste of Honey
Seclusion of the Wives
Dress Code Exceptions
A Lost Verse Remembered
Speculation About the Lost Verse
A Prophet and a Prude
The Cult of Masculinity
Women and What It Means To Be Civilized
---
The front cover is from a photograph by John Goddard of the Toronto Star which has been embossed for artistic purposes and to obscure the identity of the participants in a prayer in the cafeteria of a Toronto, Ontario (Canada) public school.
At the very top of the picture are prostrated boys and men. Behind them it is women and girls. At the bottom of the cover you can make out school girls sitting and watching. They cannot participate in the prayer because they are menstruating, and in the eyes of Allah are unclean.