Shooting the Messenger
3 -The Road Back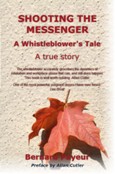 After only a few short years in Ashcroft, we moved to Kamloops.
Following completion of grade 13, I applied and was accepted at Simon Fraser University. During the summer months I would return to Kamloops where I managed a small campsite on the eastern edge of the city.
The owner of the campground was also president of a small mining company, Taseko Mines, which was listed as a penny-stock on the Vancouver Stock Exchange. One share of Taseko Mines cost a nickel or less.
One day when my employer was giving me my pay cheque for the week, he told me to use it and any other money I had saved and buy as many shares in Taseko Mines as I could afford. Drilling samples from a site in the Yukon looked promising, and when the word got out that gold had been discovered, he assured me, share prices would rise dramatically.
Shares of Taseko Mines had risen to 25 cents per share when he drove up to the campsite to warn me to sell all my shares immediately. The assay office in Victoria was about to make its findings public, it was fool's gold. I sold my entire stake in Taseko just before Taseko shares plummeted into oblivion.
What I did was not illegal, but I was profiting from an illegal act (the illegal act having been performed by whoever in the assay office informed my employer prior to informing the public) therefore, theoretically unethical.
Should I have informed on the person in the assay office in Victoria?
Whistleblowers are not snitches or informers. To have exposed a junior public servant would only have jeopardized the relationship I had with a man who only had my welfare at heart and made little difference, and whistleblowers are about making a difference. They also know that perfection is not of this world, and that people will make mistakes, which is why they rarely jump to conclusions and tend to give the benefit of the doubt.
After my third year, I left Simon Fraser to go to work fulltime for a finance company in Kamloops.
Industrial Acceptable Corporation (IAC) was a finance company specializing, as its name implied, in loans for the purchase of cars, trucks, tractors, logging and construction equipment and, eventually, mobile homes. Today IAC is unrecognizable as the Bank of Hong Kong. My job at IAC was collections and repossessions with some credit counseling.
It was a nice job but I did not like doing repossessions. After about a year and a half, I left IAC and spent a wonderful carefree summer in the Okanagan Valley before getting into my car and heading east.
I am not sure why I chose Ottawa. It may have been the glimpse I got of the city from the train that took me to Expo 67 when I was barely a teenager. I knew I had missed something.
In high school in British Columbia, because I came from Ontario (Northern Ontario), when Ottawa was the topic, they all assumed I knew the city and what went on there. But I didn't.
I was also curious about what it would be like to work for the federal government, even for a short time.