A Well-Dressed Woman Living In A Mess

How could a woman who always appeared impeccably dressed, and impeccably groomed in public live in such a mess?
The front-desk had given me the keys to two apartments I could visit on the fourteenth floor. This was after I had decided I could not remain in my now overwhelmingly gay apartment.
I would move into the apartment across the hall from the mess.
I got to know and often shared a drink with the slender Twiggy-like blonde living in that mess. We would sit at her kitchen table — a four-by-four vinyl and wood imitation of a butcher's block on stainless steel legs — drink and talk about our impossible relationships.
She had the saddest blue eyes I had ever gazed into. I stared at her, she stared at the painting. Even when she looked at me, it wasn't me she was looking at.
I don't remember what she poured in my glass except that is wasn't wine, and it wasn't beer. All I remember is that I did not like it that much. It probably was rye or whiskey, something my father drank.
Her apartment was always a mess. Everywhere you looked there was a piece of clothing — even underwear — strewn about. The kitchen counter was seldom free of empty packaging from some take-out or a dirty pot or pan from the day before. The walls were bare except for what could pass for a child's attempt at painting still life: flowers surrounded by a smooth, cheap grey frame made of balsam.
Montreal is only 120 miles from Ottawa and she was spending today's equivalent of a thousand dollars a month on long distance telephone charges. Our short evenings together usually ended with "If faut que je fasse un appel" (I have to make a call).
She talked about the man she yearned to be with; I talked about the woman I couldn't live with and couldn't live without. The man whose company she craved she described as a brilliant man, a brilliant misunderstood artist. The man she talked about was confined to a state institution.
The woman I talked about was Margaret.
It was maybe four or five months after arriving in Ottawa that I made the call to Windsor. The next Friday I boarded a plane to spend the weekend with her. She later came to visit me in Ottawa, and the on again off again relationship was on and off again.
When I was with Margaret I could not imagine a life with her; when I wasn't with her, I could not imagine my life without her.
André kept a gun in a box in his closet. A real gun! When he first showed it to me I thought it was a replica of a western revolver until he gave it to me to hold and caress and showed me the bullets.
Many times when Margaret returned to Windsor, or I returned to Ottawa alone I had thoughts of the gun in the closet and how easy and quick it would be to put my imagination out of its misery.
It may have been the Twiggy-like figure with the sad, misty blue eyes that first talked about seizing the moment before self-preservation interfered and spoiled it. It was just talk — we were just talking. Who has not talked or thought about leaving on his or her own term and not according to some mythical god's timetable.
Sometimes, when I spot a Minister walking the Halls of Parliament or on Wellington Street accompanied by a good-looking blonde with a binder or a briefcase I am reminded of her. She spent a lot of time with government movers and shakers and at least one Minister.
She was not from Quebec City, but from somewhere else where English is a foreign language. It might have been Gaspé or maybe Rouyn-Noranda.
Young Québec women with a college degree, or even high school graduation, who could not speak English and had a pleasant personality and good looks easily found jobs with one of the many personnel placement agencies that specialized in providing Ministers, Members of Parliament and senior bureaucrats with private one-on-one tutoring in conversational French.
The Holy Grail for these young women was, and still is, landing a full-time job with a Minister, Member of Parliament or getting a leg up on other applicants for jobs in the public service. For those with a college degree, there was The Canada School of Public Service at Asticou (a few kilometers from downtown Ottawa) that employed full-time language teachers.
One evening I found her in a much improved mood. There was life in those beautiful blue eyes and the mist had dissipated. She said she had found a new job or something and she was leaving.
Before I left her that evening she took the painting off the wall and gave it to me. "Pour toi, j'en n'aurai plus besoin (For you, I won't need it anymore)." She gave me a hug and meant it.
Before closing the door she said: "Tu sais, si pour toi la vie ne vaut rien, rien ne vaut la vie (You know, if life means nothing to you, then nothing makes life worth living)."
Back in my apartment I turned the painting over and, in the most beautiful handwriting: "Si pour toi la vie ne vaut rien, rien ne vaut la vie."
I thought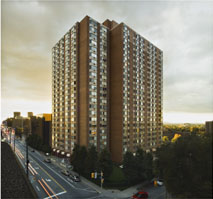 the message was for me. How arrogant.
How could it have been? It was not signed, and her giving it to me had been a last minute decision.
It was his message to her. Why did I not see that at the time?
The painting was also her link to the man in Montréal for whom her heart ached, and she would not part with something so precious unless ...
It may have been the next morning, or the morning after, that someone made their way to the twentieth floor and onto the roof of Pestalozzi and, just before sunrise, jumped.
I never asked who it was. It never occurred to me that it could have been her and giving me the painting was her way of saying goodbye forever. How could I have been so clueless?
I was told that a body had been found on the stairs in front of the eastern entrance to Pestalozzi. To the east was Montréal and the man behind the painting.
Remembering Glenna, Joyce, Margaret, Liz and Marina had been somewhat of a not always unpleasant, emotional roller-coaster ride, but forgetting her has been the worst, reminding me of my own failings as a human being.
Try as I might, I cannot remember her name. With her name I might be able to find out what happened to her. In all likelihood it wasn't her who jumped, and I shouldn't feel guilty.
It doesn't help that a few years ago, as I was cleaning out my garage, I came across the painting. It had suffered water damage and was all moldy so I threw it out.