Motion 103
What Does the Prime Minister Have To Do With It?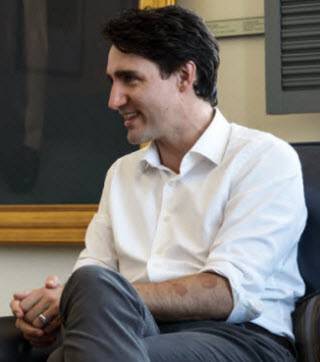 Ms. Iqra Khalid could not have gotten her damning indictment of Canadian society through Parliament without the wholehearted support of the Prime Minister's Office; the Minister of Heritage's enthusiasm being the most visible sign of Trudeau's commitment to the cause.
Does the Prime Minister really believe that in a functioning egalitarian democracy Pakistan-born Iqra Khalid and Somali-born immigration minister, the Honourable Ahmed D. Hussen, are the exception to an unwritten rule and made it to the House of Commons in spite of a rabid Islamophobic electorate?
Before the election, he was not as circumspect in courting the believer's vote nor later when, as Prime Minister he cancelled the Conservatives' request to the Supreme Court to rule on the right to wear the face-covering veil, the niqab, when taking the oath of citizenship.
Justin Trudeau's affinity for the Religion of Peace is well known, his spending Christmas as a guest of the Agha Khan being the latest public manifestation of that affection if you exclude cupping, a cure for whatever ails you favoured by the founder of the religion which has all the answers if you know where to look.
Justin Trudeau, the prime minister, engages in cupping ...
This was revealed Monday in photographs that accompanied Trudeau's appearance on sportswriter Jonah Keri's podcast, which show two circular reddish bruises on his left forearm.
"We can confirm that he indeed uses that treatment," said press secretary Andrée-Lyne Hallé.
She did not answer the National Post's questions as to why he does so, or for how long he has, who provides it, or whether it has been helpful.
National Post, April 24, 2017
Yes, it is true that this ancient therapy has become popular among athletes e.g. Michael Phelps, but for a Prime Minister to advertise this widely discredited practice is so irresponsible that some will look to the example of the Prophet for a reason why he would do so.
Trudeau's rapprochement with Islam has made him the darling of activists who rightly perceive him as a leader who is receptive to their argument that Islam's' rituals and goals are either beneficial or benign and should not be impeded by those who think otherwise. Motion 103 fits right in with that understanding.
Freedom of Speech Attacked in the House of Commons on Women's Day
Bernard Payeur