Air India Flight 182
The 1985 bombing of Air India Flight 182 was Canada's worst mass murder, killing 329 people. The investigation and prosecution, with allegations of evidence bungling and law enforcement rivalries, have been the costliest in Canadian history, estimated at about $130 million.
CBC
Verse 2:282 of the Koran informs the believer that a woman's testimony is worth only half that of a man:
... And call to witness two witnesses of your men; if not two men, then one man and two women from such witnesses you approve of, so that if one of them (the two women) fails to remember, the other will remind her ...
I was reminded of this verse when I read part of Judge Josephson's justification for dismissing charges against the alleged bombers of Air India Flight 182.
He dismissed the charges against Ripudaman Malik Singh and Ajaib Singh Bagri (the prime suspects in the murder of 331 innocent men, women and children in the bombing of Air-India, Flight 182) in part, because he put more faith in the testimony of a man than that of a woman.
Judge Josephson chose to believe Raminder Singh "Mindy" Bhander instead of a Sikh woman called Rani, whom, even he admitted, was an excellent witness:
She appeared energetic, intelligent, outgoing and had a pleasant manner, while exhibiting a strong will and determination. She revealed an excellent memory, relating vivid details surrounding certain events.
He chose not to believe Rani because of her "ongoing love, respect and longing for Mr. Malik, a man whom she claims admitted his complicity in the senseless mass murder of hundreds of complete innocents." Yet, he chose to believe a man who also professed, in open court, his love for Ripudaman Malik Singh.
No, it was not a homosexual relation. Like Malik's relationship with Rani, there was no sex involve.
Mindy claimed to love Malik like a son loves his father. This so impressed Judge Josephson, it seems, that he chose to believe Raminder Singh "Mindy" Bhander, whose reputation was less than stellar, instead of Rani.
Here is how Kim Bolan, author of Loss Faith, How the Air-India Bombers Got Away With Murder (McClelland & Stewart Ltd, 2005) described Raminder Singh "Mindy" Bhander appearance before judge Josephson.
Laughter erupted in the packed courtroom several times during Mindy's testimony. He claimed he had made more than $350,000 from drug smuggling, trafficking, and fraud and that he still had a machine to illegally copy credit cards …
… Mindy said that Malik was a father figure to him and that he had lived with the Malik family after a falling out with his own parents. He said Malik had given him a Land Rover and paid for him to go to India.
… He admitted to selling marijuana, cocaine and ecstasy. He said he carried a loaded handgun for protection and had threatened to kill at least two people. He admitted that he had threatened Crown witness Narinder Gill …
It was hard to imagine a more unreliable witness. Yet, in the end, Josephson believed him (instead of Rani).
Maybe Judge Josephson was not biased against female witnesses; perhaps he simply saw Rani's admission of loving the man who arranged the bombing of Air-India Flight 182 as a way out; as a way of avoiding having to declare Ripudaman Malik Singh and Ajaib Singh Bagri guilty.
Inderjit Singh Reyat, Ripudaman Malik Singh and Ajaib Singh Bagri along with other radical elements within the Canadian Sikh community had engineered the murder of more than 300 innocent men, women and children; sending them plunging to their death from 33 thousand feet.
Supporters of Reyat, Malik and Bagri would murder a number of witnesses before they got a chance to testify, including the outspoken Canadian publisher of the Indo-Canadian Times, Tara Singh Hayer in 1998. The first such murder of a journalist for reporting the news in Canada.
Rani, the woman whom Judge Josephson chose not to believe, had to be put into protective custody to save her life. Ujjal Dosanhj, who would become Canada first Indo-Canadian premier and Federal health minister, spoke out against radicals like Reyat, Malik and Bagri and was attacked by a man wielding an iron bar pierced by a bolt. Eighty stitches were required to close the wounds to his skull.
This was the world outside Judge Josephson's court room, a world of violence and intimidation which the police were powerless to stop.
Mindy the gangster, testifying on behalf of other gangsters — all of them thumbing their nose at the Canadian Justice System — a reminder for Judge Josephson that unless he wanted to join Rani in protective custody, he should be very careful.
During his news conference, after the release of his report on the bombing of Air-India Flight 182, Bob Rae alluded to the climate of fear and intimidation to which Judge Josephson may not have been immune:
[Families] pointed to the evidence of a culture of fear within communities that has stopped people from telling the truth about what happened. Two potential witnesses in the Malik and Bagri trials were killed. These murders . . . have not yet led to criminal charges.
The worst mass murder in Canadian history, the worst act of terrorism prior to September 11, 2001, unsolved murders of witnesses, a judge who may have been bias against women or intimidated and all Bob Rae can do is recommend an investigation into the police investigation and security measures taken since the bombing 20 years ago — a well trodden path.
The Canadian Justice System, in the eyes of many around the world, is an oxymoron. In took fifty or more years for some NAZI war criminals to be tried for their crimes. It took twenty years or more for the AIDS doctors responsible for sending thousands of Canadians to an early grave to be tried for their crimes, only to be acquitted and praised by another sympathetic judge.
The acquittal of Malik and Bagri is only the latest example that in Canada, create enough victims and your chances of never having to answer for your crimes increase dramatically.
The Air India tragedy and the bungled investigation and prosecution was the perfect excuse for the government to conduct a wide-ranging investigation into the incompetence and perversion of the Canadian Justice System. Such an enquiry would have made the senseless death of so many somewhat less senseless. Instead, we get more of the same.
Bernard Payeur, November 28, 2005, Revised August 12, 2008.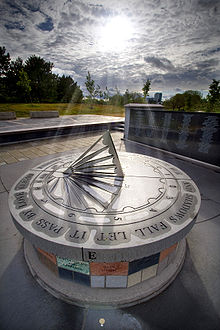 Air India memorial in Toronto. Image from Wikimedia Commons.