People and Horses

What to do! It was my first time on a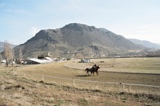 horse. What to do with that mass of living, thinking — you can call it instinct if you like — quivering flesh as it shifted ever so slightly underneath me trying to decide what to do with me and me with it.
Thank goodness there was someone around from the Kamloops Tk'emlups First Nation to break the communication barrier.
Pull on the left rein, he explained, to make him go left; pull on the right rein to make him go right, and pull on both reins to make him stop.
Simple enough.
With my instructor's constant reference to my horse as "him", I assumed my mount was male, a stallion, preferably a gelding. I never looked, but considering what happened later I suspect it was a stallion with everything intact. Stallions are not easily intimidated.
"How do you make it go?" I asked.
A gentle kick to the ribs, while moving slightly forward in the saddle, and a friendly "giddy up", I was told, usually did the trick. It did.
The instructor reminded me, as we left the coral, that if I ever wanted to enjoy sitting again, to ride with my legs, letting my bum go up and down in rhythm with the up and down motion of my horse's back. Maybe that is why women like riding so much, great workout for the thighs and buns.
About a mile into our slow trot in the direction of Mount Peter and Paul the aboriginal leader of our little posse galloped back towards me.
"What's the problem?" he shouted.
"My horse won't go where I want him to go," I shouted back.
At which point, he grabbed the bridle and twisted my horse's head around with some authority.
"You have to show your horse where you want him to go," he said, "you have to show him who is the boss" and galloped back to the head of the line.
I started pulling on the reins a little harder. My horse eventually got the message as to who was the boss, and, after a while, only a gentle tug would get it to obey his rider.
The man who showed me how to ride would probably have agreed with whoever said that "horses are like people, if you don't ride them they'll ride you." I had not had that much experience with people who rode people, but that would change.
Going horseback riding had been Joyce's idea. She was still infatuated with my brother and she knew that he loved to go riding on the Tk'emlups Indian Band reserve across the river, less than a mile from downtown Kamloops.
Girls like Joyce were not usually attracted to guys like me. Can't blame them. Like most attractive, out-going girls, she liked the strong physical types with the friendly pleasant personalities who knew how to dance — that would have been my brother.
Joyce was Albert's girlfriend when we met. My brother's interest in Joyce had waned as his interest in another young lady had blossomed and he was looking for a way to let her down gently — that was the type of guy he was. He suggested to Joyce that she might want to date me.
For Joyce, that was a no-brainer. If dating the brother meant being close to the man she was still in love with, that was a price she was willing to pay.
Joyce decided this slow trot, single file was getting to be a bit of a bore and peeled off at a gallop heading towards the river, waiving to me to follow.
What a marvelous sight that was, she was really working those legs, but that is not why I learned to go from a slow trot to full gallop in no time at all. Once I had my ride pointed in the right direction, it understood, and it became a race and all I could do was hang on.
They say you can learn a lot from falling off a horse and getting back on. Perhaps, but it was not a lesson I would learn that day, although it was a close call.
I was gaining on Joyce as we approached a bend in the Thompson River when her charging horse stopped suddenly, and a pair of flying hooves narrowly missed knocking out my mount's front teeth.
An attempted sucker punch if there ever was one, and the now angry beast I was riding was not about to let it go. It too stopped, swiveled 180 degrees, and before you knew it, both horses where knocking hooves.
Joyce quickly regained control of her mount and, to my surprise, I also managed to do the same with my rambunctious stallion.
Maybe it was the adrenaline rush, maybe she was impressed with my horsemanship, but Joyce was in the mood and, not knowing what to expect, I let her, and I didn't mind it at all.
All this happened on Tk'emlups Indian First Nation reserve. Perhaps that is the reason why, later in life, I would write and dedicate my first book Canada - The Fractured Nation Interviews to First Nations and a lesson not learned?
It was late May or early June when Joyce and I became more than friends. We spent that the entire summer together. She would come to meet me in the evening at my summer job looking after a camp-ground, just off the Trans-Canada highway on the eastern outskirts of Kamloops. My day ended around 10 or 11 pm when we would drive into town to grab a pizza or an A & W burger before driving into the hills.
Kamloops is blessed with a semi-desert climate, which means hot summer days, warm summer nights and not much rain. Perfect when you're both living at home and have to go out to enjoy each other's company in private. Enjoy being intimate under the stars, but if its June, watch out for ticks, if it's August, rattlesnakes.
The owner of the campground I looked after was also president or CEO of a small mining company, Taseko Mines, which was listed as a penny-stock on the Vancouver Stock Exchange. One share of Taseko Mines cost a nickel or less.
One day, as he was giving me my pay for the week, he advised me to use it and any other money I had saved and buy as many shares in Taseko Mines as I could. Drilling samples from a site in the Yukon looked promising, and when the word got out that gold had been discovered, I was told, share prices would rise dramatically.
Shares of Taseko Mines had risen to 25 cents per share when my employer warned me that the assay office in Victoria was about to make its findings public: it was fool's gold. I should sell all my shares in the mining company IMMEDIATELY! I did, just before Taseko shares plummeted into oblivion.
What I did was not illegal, but I was profiting from an illegal act (the illegal act having been performed by whoever in the assay office informed my employer prior to informing the public) therefore, theoretically unethical.
Of course, between my job, Joyce and a wonderful employer who was doing his best so that I could afford to go to university, theoretical breaches of ethics were the furthest things from my mind.
Should I have informed on the person in the assay office in Victoria?
Whistleblowers are not snitches or informers. To have exposed a junior public servant would only have jeopardized the relationship I had with a man who only had my welfare at heart and made little difference, and whistleblowers are about making a difference. They also know that perfection is not of this world, and that people will make mistakes, which is why they rarely jump to conclusions and tend to give the benefit of the doubt.
With the money from my summer job and from my gamble in the stock market, I was able to do two consecutive semesters at Simon Fraser University. Joyce would visit me there, but it would not be long before we drifted apart.