Shooting the Messenger
Epilogue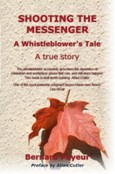 Plus ça change, plus c'est la même chose (The more things change the more they remain the same).
Jean-Baptiste Alphonse Karr
Since learning about the extraordinary bonus paid to my former boss at Foreign Affairs, and perhaps others (the Department refuses to confirm or deny that such bonuses were actually paid citing privacy concerns) for the damage my discoveries, and my talking to the Commissioner of Official Languages had on his career, every time there is a new Minister at Foreign Affairs, I write to the Honourable Minister to ask if he would reinstate my pension.
Surely, it is the least they can do.
The most common excuse for ignoring my request is we have lost the files. My offer to give them unrestricted access my files being always ignored, I decided to write a book.
I sent the first edition of Shooting the Messenger to the Minister of Foreign Affairs, the Honourable Lawrence Cannon (at this writing).
Not having all the facts was just an excuse, as you might have guessed. Lawrence Cannon now has all the facts, but he still can't be bothered.
Will his successor be any different? Somehow, I doubt it, but he or she will get a hand-delivered copy of my whistleblower's tale.
I may even put it in my Will that, until whoever is in charge at Foreign Affairs does the right thing, they get a copy of my book.
That will show them!
Yeah, right! Dream on...
Bernard Payeur