Remembering Uzza
If the Story of Islam Was Told to Me In a Pub
a work in progress
Remembering Uzza is meant to make learning about the Koran and the Prophet a mostly pleasant experience while not sugar-coating or leaving out the nasty bits.
And, is there a better place to learn about Islam then in the relaxed atmosphere of a favourite pub in the company of friends and a troubled but engaging young woman to give you an insider's perspective.
Uzza is a story for our time that has the potential to change the course of things to come... continue
ACT I
All titles tentative
1.1 A Bad Case of Dogmatic Distress
ACT II
All titles tentative
2:3 Who Are You Calling Stupid?
2.4 A War That Pays For Itself
2.5 Rape Without Compassion and Overkill Become the Norm
ACT III
All titles tentative
3.3 Allahu Akbar! Khaybar is Ruined
3.6 An Untimely Death and the Birth of a Cult
Epilogue
---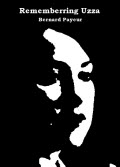 Cover: Assume that the ragged outline of a saxophone player within the silhouette is that of a man playing Taps.
The highly stylized face was inspired by a public domain photograph of RCMP veteran Corporal Catherine Galliford.
Unlike Little Mosque on the Prairie, Uzza tells it like it is.