Michelle Monette
Michelle Monette was the first woman put in charge of ground operations for an international carrier and member of the International Civil Aviation Organization (ICAO), in this instance Air Canada's combined operations at Mirabel and Dorval.
Michelle had worked her way up the ranks at Air Canada and was well on her way to being named the airline's first female president (it would again have been a Canadian and world first) when Harris and his gang took over and made sure that would never happen. It was from her that I learned about the takeover of Air Canada by American evangelicals.
We also talked about the Airbus affair. Who was bribed, you ask? It was not Mulroney. I find that easy to believe, having been an innocent party in a serious attempt to bribe the then Prime Minister—the guy with the briefcase full of cash was sent packing back to Greece that same day. She pointed out that when you want to sell planes to an airline, you bribe the boss. I know Michelle to be a straight shooter. Could she have been mistaken when she said to me that "everybody at Air Canada knows it was Yves Pratte except the RCMP."
Yves Pratte was chairman of Air Canada fifteen years before the airline took delivery of the first airbus. He left the airline under a cloud after being accused of "making side deals with travel agencies" (Pratte-à-porter, Canadian Lawyer, July 4, 2008). Could Michelle have mistaken that indiscretion with the greater indiscretion of accepting bribes from Airbus (unless Pratte was their inside man even after leaving Air Canada).
In an attempt to rehabilitate his reputation, Prime Minister Pierre Trudeau made the disgraced former chairman a Supreme Court judge. It didn't last. As fate would have it, I appeared before Yves Pratte's brother, Louis Pratte, who was one of three Federal Court Judges who heard my appeal as a self-litigant of my dismissal from the then Department of Foreign Affairs on bogus accusations of insubordination.
An interesting tidbit Michelle revealed about her time at Air Canada was that, by prior arrangement, the airline flew Prince Philip incognito to visit with a mistress in Montréal. Those arrangements included ground transportation to a luxurious condo building on Sherbrooke Street where she lived.
That is my sadly missed wife Lucette on the left and Michelle on the right in a picture taken shortly after her leaving Air Canada. They met in kindergarten.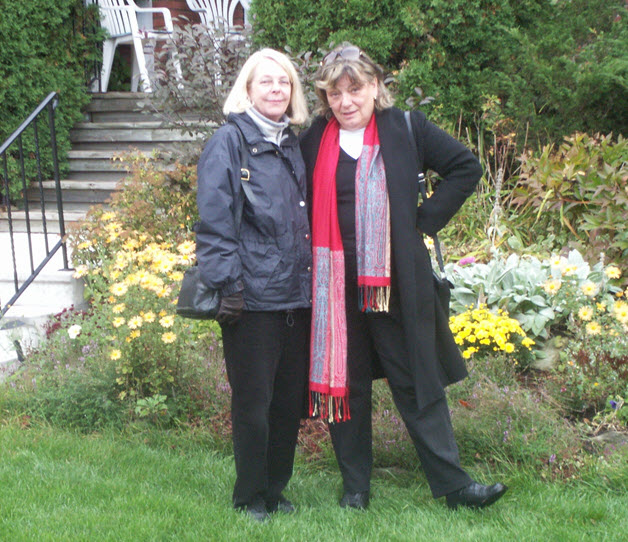 Michelle would move to Toulouse, France to consult for Airbus Industries. I had not heard from her in many years when I attempted to look her up to share the news that her life-long friend had passed away, but could not locate her. She was a year older and a smoker, so maybe she is with Lucette right now.
While in Toulouse, Michelle met a Jewish gentleman. She broke off communications, which, like everything I did impacted my Lucette, who agreed with what I wrote on my website about the short-sightedness of the Canadian Jewish Congress in its stanch support of exceptions in law on religious grounds. Michelle was not of that opinion based on, I suppose, a newfound understanding of what it means to be Jewish.
Life is strange.
In the weeks leading to up my Lucette's passing we talked about what I was going to do after she was gone. I said I would like to use part of her legacy to create audio books. She suggested I start with Shooting the Messenger. That surprised me. After we lost our home there didn't seem much point in pursuing the matter. I have yet to make it into a book you can listen to, but I have made it available as a free PDF.
Our home for more than 35 years: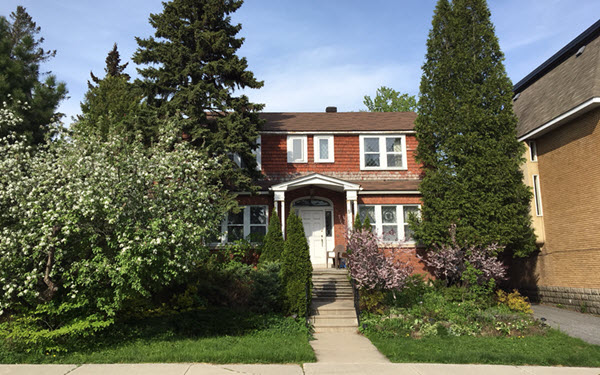 Two months before she died, our nearly century-old house my wife hoped would be her shelter when she took her last breath was destroyed because a government would not return moneys unjustly withheld so many years ago. I made one final appeal to both the then Treasury Board President, the Honourable Scott Brison and the Minister of Foreign Affairs, the Honourable Chrystia Freeland. The Honourable Scott Brison would not overrule the Honourable Minister of a powerful department that favours thieves at the expense of honest men and women. Sorry I let you down sweetheart. Rest in peace.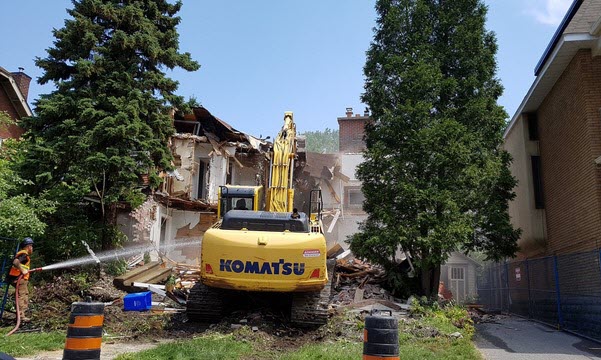 Bernard Payeur