The Islamic Hereafter
Paperback, 132 pages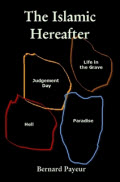 The Islamic Hereafter is all about pleasure and pain – hedonistic pleasures and agonizing pain. While Muslim children are expected to have read the entire Koran by the age of seven, The Islamic Hereafter is not for children whose parents are not into persuasion through terror.
If Allah's revelations about the appalling indescribable pain and cruelty unbelievers can expect on Judgement Day, and later when He confines them all in His Hell, are not enough to cause them to experience unforgettable bone-chilling nightmares, His Messenger's ghastly visions of a claustrophobic zombie-like existence underground surely will.
Hell is visible from the glorious heights of Paradise, and the unbelievers burning therein will be part of the entertainment for those worthy of Allah's Beneficence.
Allah's Paradise is very much a lustful desert dweller's utopia, an oasis cum pleasure abode with all the amenities such men would expect to find there such as "cushions and superb rugs … uplifted mattresses ... ranged couches in the shade." Amenities meant to make nearly non-stop fornicating for an eternity with "wide-eyed houris ... purified spouses ... virtuous maidens averting their gaze" as comfortable as only a god can make it.
If you found the information that we have made freely available online useful, please consider buying the book. Thank you.
Revelations and Generalizations
Revelations and Generalizations is the opening explanatory chapter of Pain, Pleasure and Prejudice. What is written there about the why, the wherefore and the methodology used in that ground-breaking publication is applicable here.
The Living Dead - Life in the Grave
The Great Blasphemy
The Punishment is Coming, the Punishment is Coming!
A Descent Into Madness
Answering Your Questions about the Day
You're Making That Up
The Charmer
The Driver
Children Scared White
Location
Answering Your Questions ... (continued)
The Trick Question
Blue-Eyed With Terror
Answering Your Questions ... (continued)
No Excuses
Witnesses for the Prosecution
Losing It
The Naked Ones
Questions About Bones
Partners in Crime
Earth and the End of Eternity
Eternity May Not Be Forever
Uninterrupted Madness
The Dispatched Ones
The Cleaving Asunder
The Rending Asunder
The Earthquake
The Chargers
The Clatterer
The Nuts and Bolts
Location and Construction, Distance from Hell, Gardens and Springs, Buildings
Food and Refreshments
Clothing etc.
The Tracks of Heaven
A Man's Paradise
An Eyewitness Account
On the Wall Between Heaven and Hell
The Bridge Over Hell
An Eyewitness Account
Women on Fire