Julia Ann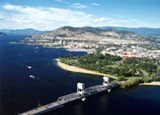 Before leaving Kelowna for Ottawa I drove to Liz's house to say goodbye. She said she would give it up if I stayed. Even such a delightful prospect could not keep me in town.
Summer was coming to an end. One of the nicest summer I could remember since my family moved to British Columbia. It was the summer of Liz. It was the summer of cruising the Okanagan in Darcy's yellow Corvette.
Darcy was a colleague in the Kelowna office of Industrial Acceptance Corporation (IAC) — today unrecognizable as the Bank of Hong Kong.
IAC was my first real job after dropping out of Simon Fraser in my third year. The two women in my life who had made the experience worthwhile were gone. One had died, and the other taken a plane to go where I was not ready to follow. The woman who died was my mother; the woman on the plane was Margaret.
I would return another day, I promised myself. I would return another day to complete my studies. I would return to Burnaby Mountain where that great grey raised square that allowed you to gaze at the vista of the costal mountains, to look down on the great city of Vancouver and the Pacific beyond while walking its perimeter no longer reminded me of my time with her.
I would never return.
IAC was a finance company specializing, as its name implied, in loans for the purchase of cars, trucks, tractors, logging and construction equipment and, eventually, mobile homes. My job at IAC was collections and repossessions with some credit counseling.
Repossessing cars, trucks and tractors was one thing, mobile homes quite another. I did one, giving a young family the standard twenty-four hours to vacate when I decided that this was not for me. The mobile home repossession had sparked a transformation that a visit to a ranch near Merritt to make arrangements to pick up a car would complete.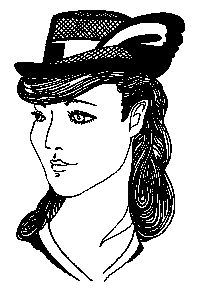 Night had already fallen when I knocked on the door. A young woman answered. She was nursing a baby. She recognized me and I recognized her. She invited me in.
In grade thirteen, at Kamloops High School, we had had a brief flirtation, often skipping classes to drive into the mountains or to go to the park by the Thompson River to enjoy a beautiful day in each other's company.
Julia Ann liked to sketch. To the right is a drawing she made of a young woman.
It is how I remember her — minus the hat. We were just sitting on the grass beneath a tree in Kamloops' Riverside Park when she made the sketch, which may have borrowed from a magazine she was reading. I liked it, so she gave it to me.
She made me a cup of coffee. We sat at the kitchen table and talked while she continued nursing her baby. The infant's father was expected at any time. When he showed up, I said hello and shook his hand, the hand of a cowboy, a genuine cowboy. We knew each other. I respected him but I doubt very much he respected me.
I lost Julia Ann because I would not fight to defend her honour.
Some punks, when we were returning to the car after a rock concert, made some disparaging remarks and all I could do was pretend I did not hear anything. When it came to physical confrontations I always took the easy way out, the coward's way out.
The fact that I shied away from fisticuffs is probably why IAC kept me on for as long as they did. I could not be provoked into a fight and embarrass the company even when dealing with their most difficult clients. I could be counted upon to embarrass myself instead.
The time with Julia Ann and her husband reminded me that I was a coward and that what I was doing was not very nice, an embarrassment you might say.
I would leave IAC in the spring and, just as I was walking out the door, Darcy shouted, "wait for me" and so began the wonderful carefree summer of 1972.
I am not sure why I chose Ottawa when August gave way to September. It may have been the glimpse I got of the city from the train that took me to Expo 67 with my sister-in-law Laurette when I was a teenager.
I knew I had missed something. In high school in British Columbia, because I came from Ontario (Northern Ontario), when Ottawa was the topic, they all assumed I knew the city and what went on there. But I didn't.
I also was curious about what it would be like to work for the federal government, even for a short time.
Before saying goodbye to Liz I called my old man. He wished me luck. That was the last time I would talk with him. My father when he got drunk often made threats. He made one too many and the woman who had replaced mom stabbed him to death. Another murder in the family? His father died in a hunting accident. My father said it was murder which is why there was one brother he would have little to do with.
I kissed Liz one last time and drove out of town heading east, picking up a hitchhiker going my way.
I made the return trip in early September when I was half my mother's age and conditions were ideal. She did it in winter-like weather in the unpredictable month of November.
She drove more than two thousand miles in under three days; driving from sun up to pass sundown on a highway where four lanes were the exception; driving from sun up to pass sundown with four kids in the backseat — the youngest in the front seat, sandwiched between her and an alcoholic husband who could not be trusted to help with the driving.
As I encountered one familiar sight after another from that remarkable journey I could not help but marvel at the courage it took.
Three days after leaving Kelowna, I was in Ottawa having a cold beer on the terrace of the National Art Center next to the legendary Rideau Canal. Now, where to stay?