Pestalozzi I
A Woman Who Loved Women
and the Intimacy of Igloos on Cold Arctic Nights

Unlike Kelowna, rents in Ottawa were prohibitively expensive, but there were alternatives for those short on cash. One of these was Pestalozzi College, an urban commune named after Johann Heinrich Pestalozzi [1746-1827] the famous, or infamous depending on your point-of-view, Swiss pedagogue and educational reformer.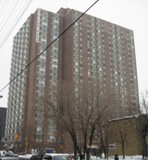 It was a college in name only. It was a modern twenty-story apartment building on one of the National Capital's more famous street: Rideau Street. A prized location only a short distance from Parliament Hill and an even shorter distance from Ottawa U. (l'Université d'Ottawa), Ottawa's downtown, bilingual university (enrolment 34,000+).
It was the layout of the apartments that made Pestalozzi special and made the rent affordable. Most apartments consisted of three or four small spartanly furnished bedrooms: a bunk bed with pull-out drawers, a closet and a desk. In some configurations, you had two or three small bedrooms and one large bedroom with two bunk beds, two desks and one closet. The bedrooms opened onto a central living and dining area. Depending on the number of bedrooms, you shared one or two bathrooms.
Unless you went to Pestalozzi as a group you had no idea who your communal companions would be.
I moved into an empty apartment with three one-bunk bedrooms and one large two-bunk bedroom. With the start of the fall semester the building quickly filled up including my little corner of the world on the 16th floor.
First to check in after me were Bob and Marina who took the larger bedroom.
Bob was a tall, thin young man with long black hair. He had this booming voice, or should I say booming laugh. Bob did not so much talk as laugh, a slightly hysterical laugh. He also had this vaguely frantic disposition, bouncing around the apartment like the proverbial butterfly.
Bob was more into fashion and make-up than most women I have known, and better at it. Bob and Marina's large bedroom would occasionally double as a makeshift beauty salon for the residents of Pestalozzi. Bob's makeovers were nothing short of spectacular.
Bob was your stereotypical gay guy. Marina however, was not your stereotypical lesbian.
Marina was a short, slightly overweight, large-breasted young woman. She may have been considered overweight by today's standards but perhaps not to her Inuit community from which I suspect she came from. Like Bob, she had long black hair. Unlike Bob, who wore his hair like Jesus Christ Superstar — that is unkempt, but so clean it sparkled — she always had hers tied back, which only emphasize her pleasant round face.
Marina taught Inuit part-time at Ottawa U.
I never got close to Bob, for perhaps obvious reasons, but with Marina, it was different. We never really became bosom buddies, no pun intended, but she was the only one I found comforting when things did not go as expected.
Marina was into Tarot Cards, usually 72 cards, 22 of which represent virtues and vices, death and fortune and are used to ostensibly tell the future. Whenever I felt my life was going down the tube, the cards always predicted that times would get better, which they usually did.
Marina had also been the victim of multiple sexual assaults until she came up with her own solution to stopping the attacks on her person. Her radical solution was not to resist and to laugh at her disconcerted assailant as he attempted penetration and even after.
In her "milieu" rape was somewhat commonplace. She said that for a rapist a struggling women (or girl) is half, if not most of the fun. She took the fun out of it by not resisting. Laughing at her assailant meant she was diminishing him as opposed to him diminishing her. After her reputation was made, the rapes and attempted rapes stopped.
Short-term discomfort for long-term relief. It had to take guts.
Years later I would join the Department of Indian Affairs as a consultant on a project which included using computer technology to identify children at risk of sexual interference in remote aboriginal and Inuit communities. But that is a story for the sequel to this whistleblower's tale.
On a few occasions, Marina asked me to accompany her to a strip club a few blocks west on Rideau Street so she could hook up with a girl or a woman who understood her. In those days, if you were a woman, you did not go to a strip club without a male escort. Your male friend would camouflage your intentions to buy a girl a beer and later invite her over to your place for a bout of intimacy.
Marina became a model for me on how to talk to women. I already knew how to listen. From the conversations I had with her and the conversations she had with women and girls she fancied, I came to appreciate that women want to be treated both as sexual objects and as human beings — not unlike men.
Marina, the woman who loved women and the intimacy of igloos on cold arctic nights, was partly responsible for my finally needing the fingers of my other hand to count the women I would get to know as friends and lovers.
Canada recognized women as persons in 1929, 52 years after Confederation. It had only taken a few years after my discovery of women as sexual beings to come to the same conclusion.
Having come to the conclusion that women were people too, it was only natural that I would extend the same courtesy to Bob, his short, curly blond-hair boyfriend and their pasty little-orphan-Annie look-alike acquaintance.
When the boys were short of cash or sundries he would go down to the park behind Ottawa's premier hotel next to the Parliament Buildings dodging queer-hunters with bats and broomsticks to tend to the men and boys waiting in the bushes where the Rideau Canal meets the Ottawa River.
The area behind the Chateau Laurier has since been extensively renovated and most of the action has moved to a park on Ottawa's other river, the smaller Rideau. You can still, however, get your mind and other parts of your anatomy blown in a variety of ways a short distance from Parliament Hill.
With the arrival of Pierrette from Québec City and André from Mont-Laurier (a small Quebec town in north-western Quebec) our little, randomly thrown together commune was complete.
Pierrette was studying dietetics at Ottawa U and would end up being André and my cook, and a wonderful cook she was (André and I did the dishes). I always have been lucky that way, that is why I never learned how to prepare a proper meal.
Pierrette was a slightly taller, thinner version of Marina. She wore her hair the same way.
Pierrette was a natural leader, although our community acknowledged no such person in theory. You picked up after yourself and kept the place clean because Pierrette expected you to. She was a woman of few words, but when she spoke you listened: a single, loud "ÇA VA FAIRE" (that's enough) when she was studying was enough to quiet even the most raucous crowd.
Like André, she had difficulty with the English language, which may explain why she and André did not associate much with Marina, Bob and friends.
André worked as a disk jockey at a local radio station on the Québec side of the Ottawa (Outaouais) River. To this day, he remains the funniest person I have ever met. Dinners were a laugh riot.
It wasn't long before Pierrette fell in love with André. He was not interested. André is the only man I have ever known who expressed no interest, in the more than eight months we were together, in an intimate relationship with either sex.
Many weekends, when Pierrette and André returned home, Marina and I would share a bunk with Bob and Blondy on the other makeshift bed, sharing a joint and listening to Pink Floyd, the Stones, Led Zeppelin or whatever, talking late into the night. It was not all small talk or rambling on the politics and pop-philosophy of the day. We also talked about Adam Smith, Hume, Kant, Nitzhe's influence on Wagner's music... German philosophers seemed to be a favourite of Bob and the blonde guy.
With the end of the school year Pierrette moved back to Québec City. André would shortly find a job with Canadian Arm Forces Radio and leave for Germany.
The dynamics of the commune were about to change with soulmates of Bob taking over the space vacated by Pierrette and André. It was time to move on, but first a visit with a well-dressed woman living in a mess.
---
Pestalozzi College has since been redeveloped into a typical apartment building and is now called Horizon Towers, the urban commune concept having fallen into disrepute — too many visits by the police and the fire department I suspect.
Shortly after leaving Pestalozzi, I went to work for the Federal Government. It was a bitter-sweet experience.