Shooting the Messenger
Till Death Do Us Part
Lucette

Communications Canada is where I met my future wife. She was a professional translator on a temporary assignment at the agency. I would not have had the courage to ask out that beautiful young woman still working away in an enclosed office on a Friday afternoon, but it was either giving that a try or admitting to my sister Rosa, who was in town with her husband for a teacher's conference, that I did not have a date for a ball at the Chateau Laurier, to which they had invited me.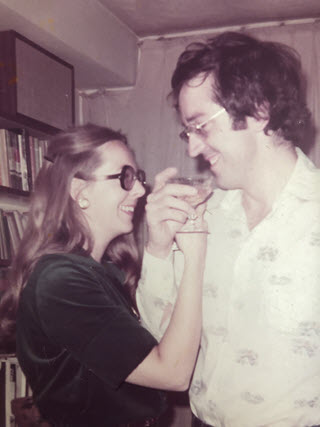 Lucette loved to dance. She admitted later that that was the reason she accepted my invitation: she would get to dance. I definitely did not woo her with my awkward impression of Fred Astaire. Still, at the end of the evening she said she would like to see me again. Shortly after we became an item, she joined the elite of government translators and interpreters, the fifty-or-so professionals who provide translations and simultaneous interpretation to the House of Commons, the Senate of Canada, Parliamentary and Cabinet Committees, and Party Caucuses.
Her range of interest; her knowledge of art, food, and history; and her extensive travels, before and after we met, meant that many an evening, when she could not talk about her day because of that secrecy thing, there was still plenty to talk about. It was not her Master's in Linguistics, and later, her Master's in Business Administration, that made for the most interesting dinner conversations, but her interest in and knowledge of the Classics (literary works of Ancient Greece and Rome) and Renaissance literature, art and history.
We had now been seeing each other for about seven years when she decided it was time. We were playing backgammon at my place. I think I was winning when she said, "If I win this game, we get married." She liked to talk about how she won me in a game of backgammon. I like to think I let her win because I would have been a fool not to. Remember her.