Boreal

because theology matters
ISLAM
Books, Essays & Comments
"Any study beside that of the Quran is a distraction, except the Hadith and jurisprudence in the religion. Knowledge is what He [Muhammad] narrated to us, and anything other than that is the whispering of the Satan."
Al-Qaeda
"The greatest enemy of knowledge is not ignorance, it is the illusion of knowledge."
Stephen Hawking 1942-2018

LOVE, SEX & ISLAM
A must read for anyone contemplating perishing, in what most of the Muslim world refers to as a sacred explosion, because of what they have been told about sex in the Hereafter.
September 2020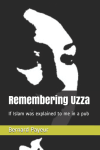 REMEMBERING UZZA
If Islam was explained to me in a pub
Remembering Uzza is a ground-breaking transformative narrative that has the potential to change the course of things to come.
---
These are the times that try men's souls. The Crisis, Thomas Paine
In my books, essays and comments on the Koran, the Prophet and Islam, in the tradition of Thomas Paine, I have tried to explain the seemingly complicated in terms we can all understand in, what is now, with Lucette's passing, a solitary campaign against the willful ignorance that will be our undoing.