Boreal

because theology matters
ISLAM
Books, Essays & Comments
"Any study beside that of the Quran is a distraction, except the Hadith and jurisprudence in the religion. Knowledge is what He [Muhammad] narrated to us, and anything other than that is the whispering of the Satan."
Al-Qaeda
"The greatest enemy of knowledge is not ignorance, it is the illusion of knowledge."
Stephen Hawking 1942-2018
WRITING PORN DURING A PANDEMIC
In my posting Falling for Uzza- Part II, I wrote that I owed Lucette's friends an explanation as to why, when I told her a young African working girl was crashing at my apartment in Montréal, all she said was that she would like to meet her. My explanation took on a life of its own, and I now find myself writing at length about love, religion and sex during a pandemic.
The dozen or so never gratuitous stories about intimacy, lust and religion—some of which you may find humorous—will be included in a short book that I hope to publish before the end of this emergency. Despite the mostly playful nature of my disclosures, I found it difficult writing about some sexual encounters.
I particularly hated admitting to being intimate with someone other than my Lucette. But I am sure she will forgive my telling the world if marrying sex and scriptures gives non-Muslims a better understanding of the latter, and convinces Muslims, especially those contemplating a mass murder/suicide because they believe what they have been told about "it" being better in the Hereafter, that it isn't, and not to be in such a hurry to get there, only to be disappointed.
March 25, 2020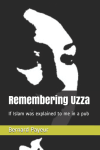 REMEMBERING UZZA
If Islam was explained to me in a pub

Remembering Uzza is a ground-breaking transformative narrative that has the potential to change the course of things to come.
Uzza should be of interest to both Muslims (Arabs in particular) and non-Muslims. The frank discussion about scriptures that the chosen venue makes inevitable will undoubtedly lead to, we foolishly hope, only mild cases of dogmatic distress.
The ultimate goal is a television production where the venue could be changed to a pub in the States if necessary. Such a production would more than pay for itself, even without advertisers, if the book, which takes the reader beyond the script, was offered to viewers during the telecast as PBS often does.
---
These are the times that try men's souls. The Crisis, Thomas Paine
In my books, essays and comments on the Koran, the Prophet and Islam, in the tradition of Thomas Paine, I have tried to explain the seemingly complicated in terms we can all understand in, what is now, with Lucette's passing, a solitary campaign against the willful ignorance that will be our undoing.