Love, Sex and Islam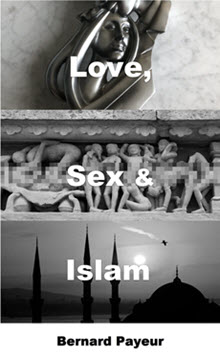 If I am able convince believers contemplating martyrdom not to be in such a hurry to get at those houris only to be disappointed, then the almost twenty years I have dedicated to the study of the world's fastest growing religion will not have been in vain.
The dozen or so adult situation stories in PART I – Sex in the Here-And-Now, some of which may bring more than a smile to your face, are not gratuitous. Actual names (first names only) are used. If you recognize yourself in a character, I hope you will be flattered, not upset, that I remember our time together after all these years.
PART II – Sex in the Hereafter, compares the experiences revealed in PART I with what a martyr can expect in Paradise. A must-read for anyone contemplating martyrdom because of what they have been told about sex in the Hereafter, that the dead have better sex than the living.
If you found one or more of the following excerpts useful, please consider buying the book.
AMAZON: USA UK Canada Australia
Contents
Prologue - Falling for Uzza - Worship, war and sex. Muhammad Forever!
PART I
Sex in the Here-and-Now
The Broken Condom - Love
Anne Part I - Oral and anal sex, coitus interruptus.
Huguette - Toys and masturbation.
Joyce - Shaving your pubic hair and female ejaculate.
Anne Part 2 - Seduction, rape and sex with your adopted son's former spouse.
Mary - Prostitution.
Jasmine - Sex with children.
Josée and Roberta - Flirting. Gang rape.
The Nurse - Sex as punishment.
Diane - Perfume and makeup.
Cancer Girl - Hair extensions and wigs. Sex as a celebration of life.
Chantal - Illegal intercourse.
PART 2
Sex in the Hereafter
Paradise
Let's Get Physical
Something Better Than All That
Afterword
Love, Sex and Islam cries out to be made into a movie, or docudrama. A Fifty Shades of Grey for the sexually naive who have been brainwashed into believing that sex is better after you're dead.
Inquiries from producers looking to make a difference welcomed.
Bernard Payeur